Where We are
You can find us in the Riverside Centre Building on North Terrace, Adelaide. The Riverside Centre is located on the northern side of North Terrace between the Railway Station and the Adelaide Convention Centre. Opposite are The Playford Hotel and the HP Centre (Service SA on ground floor). Refer to Riverside map at bottom of page.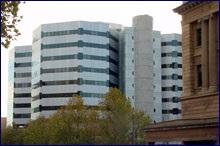 Car Parking
There are a number of car parks within the immediate vicinity, including:
Adelaide Convention Centre Car Parks:
Plaza Car Park - Festival Drive
Exhibition Car Park - North Terrace
Festival Centre Car Park - Festival Drive
Playford Car Park - Victoria Street
Adelaide Casino Car Park - Blythe Street
Grosvenor Vista Car Park - North Terrace

Public transport
The Railway Station is located near the Riverside Centre. Various bus stops located on North Terrace, King William Street and Currie Street are only a short distance away.

Eating facilities
There are a number of delicatessens, coffee shops and restaurants within the immediate vicinity. The following locations are examples:-
* within the subway of the Railway Station
* various North Terrace Hotels
* along Bank Street (joins North Terrace and Hindley Street)
* along Hindley Street

Our Facilities
The internal structure of the Riverside Centre Building is unique. The lift foyer is located in the middle of the building, comprising six lifts (two allowing for disabled and North Terrace access). On each level, walkways lead from the lift foyer to the office areas.

Hearing and conference rooms are situated on level 7.

Opening Times
The registry is on the 6th floor and is open to the public from 8.30 am to 5.00 pm, Monday to Friday.

Contact Details

General enquiries:

Telephone: 8207 0954
Fax: 8115 1380
Postal Address:
PO Box 3636
Rundle Mall SA 5000
DX Box
DX 56501 North Terrace

Feedback

Email: LicensingCourt@sa.gov.au